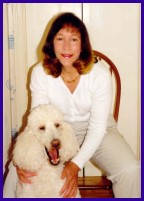 Robin Richman is an honest and fair realtor who is very knowledgeable about the housing industry. She is a well educated professional who's goal is to really listen to her clients needs and find them a perfect match.

When the time comes to make the deal, Robin is a tough negotiator. She works for her clients with integrity and dedication. She will work hard to get you the best deal possible.

Robin is also well connected to the community, having lived in Northern Delaware for over twelve years. Not only is she very familiar with the schools and neighborhoods in the area; she also can set you up with other professional services you may need to sell your home or enhance your new home purchase.