"the oldest steakhouse in Wilmington," has been host to connoisseurs of excellent steaks, seafood, and spirits. The menu offers a wide array of selections, including prime rib and steaks, a classic chop house collection, seafood and poultry, and exquisite desserts.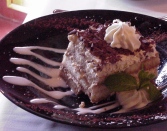 Walter's Steakhouse also features specialty wines, and wine tasting events, banquet facilities and a raw seafood bar on Sunday, Monday and Thursday nights. The seafood bar is complimentary with your dinner.



Click on a item on the left to view our current menus.